Akylah Applaude
"Marshall" DOB 25 September 2008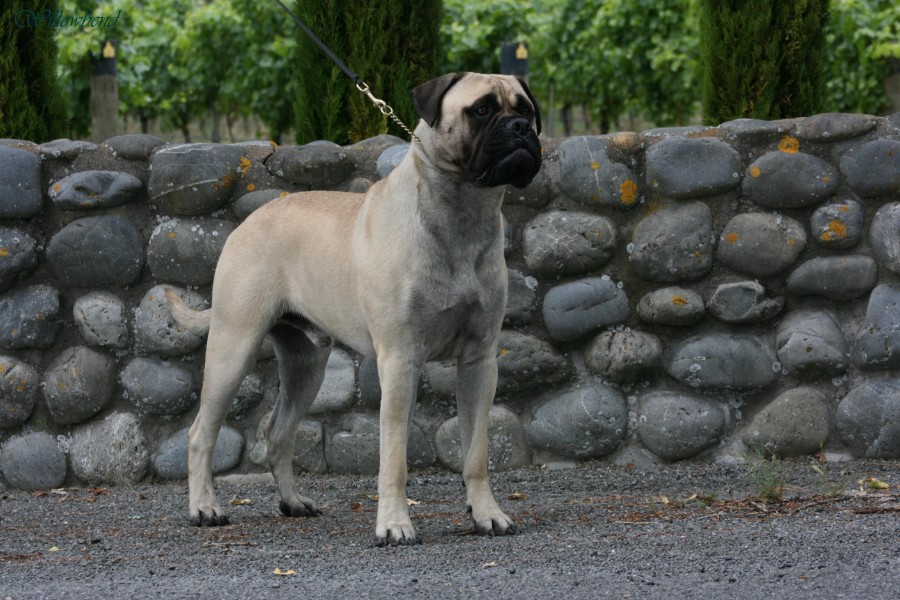 Marshall is one of the latest additions to our family.
He has a very loving and easy going personality.
Marshall has a wonderful pedigree with some fantastic and very sound dogs behind him (see below).
We are looking forward to having him out in the show ring and watching him mature.
We would like to thank Rachel and Shayne, of 'Akylah bullmastiff's', for entrusting this beautiful boy with us.
Hip Score R01/L01=02, Elbows 0/1 (Australian Scheme); Penn Hip R0.26, L 0.32.
Marshall has been awarded Puppy of the year 2009, Dominion Bullmastiff New Zealand (inc) point score competition.
Marshall's pedigree is listed below
| | | |
| --- | --- | --- |
| Parents | GrandParents | Great GrandParents |
| | Aust CH | Aust CH |
| Aust Ch | Treebrook Desert Oak | Bullvalour Jack's Pryde |
| Treebrook Moutain Ash | | Treebrook Willow Gum |
| | | |
| | Aust CH | Aust CH |
| | Treebrook Sugar Maple | Bramarley Brook Trees (IMP UK) |
| | | Treebrook Flame Tree |
| | | |
| | CH Akylah Davvi | Soloshel Midnite Thunder (Imp Aust) |
| | | |
| Akylah Vavara | | Bullmighty Hajaana (Imp. Aust) CGC |
| | | |
| | Akylah Antalya, CGC | NZ CH Bullmighty Haplo (Imp Aust) CGC |
| | | |
| | | CH Blackmask Aili, CGC |
| | | |