Ch. Akylah State of Grace
"Gracie" DOB 3 October 2008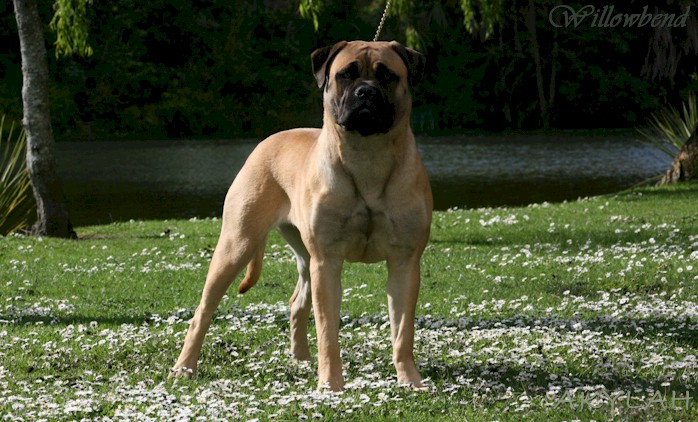 Gracie is one of the latest additions to our family.
She is an affectionate girl with a bubbly personality.
Gracie is out of CH Akylah lallante and Aust. CH Bullmaster State Trooper, from the first double sire mating to take place in New Zealand.
Gracie is Co-Owned with Rachel Thompson and Shayne Verran of 'Akylah Bullmastiff's'.
We are very proud to have her with us and are looking forward to her future.
Hip Score of 10, Elbow Score 1/1 (Australian scheme)
Gracie's Pedigree is listed below
| | | | |
| --- | --- | --- | --- |
| | Parents | GrandParents | Great GrandParents |
| | | Aust CH | Bulltyron Rain Man |
| | Aust Ch | Bullmaster Storm Trooper | |
| | Bullmaster State Trooper | | Aust CH Bullmaster Sweet Success |
| | | | |
| | | Aust Grand CH | Aust CH Bullmaster MdniteSpecial |
| | | Nightpower Special Rquest | |
| | | | Aust. CH Grasslock Memory Lane |
| | | | |
| | | Soloshel Midnite Thunder | Aust. CH Soloshel Mr Bad Guy |
| | | (Imp. Aust) | |
| | CH Akylah Lallante | | Soloshel Wild N Wicked |
| | | | |
| | | Bullmighty Hajaana | Bullmighty Barnaby |
| | | (Imp Aust) CGC | |
| | | | Aust. CH Bullmighty Flam'n Groovy |
| | | | |